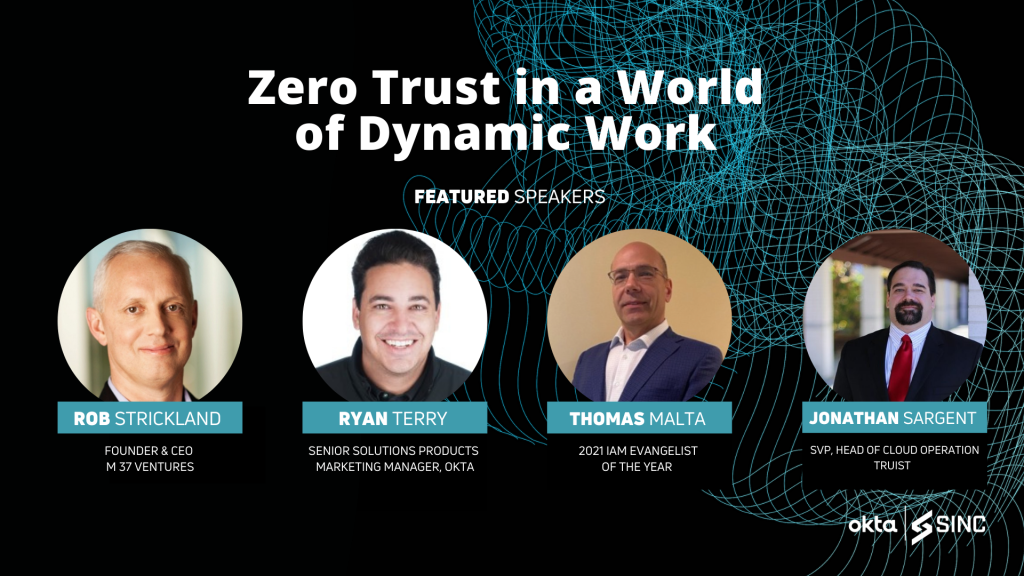 Ryan Terry –
Senior Solutions Marketing Product Manager, Okta
Thomas Malta –
2021's IAM Evangelist of the Year
Jon Sargent –
SVP, Head of Cloud Operations, Truist
Moderator:
Rob Strickland
Host:
Daniel Zierk, SINC USA
Now available on-demand, this week's
Zero Trust in a World of Dynamic Work
webinar offered a clear picture of its effects on the current landscape as well as a fascinating look ahead at what's next in the zero trust maturity curve. A brief presentation of a July Okta-commissioned report sparked off lively discussion ranging from context-based access, biometrics and third-factor authentication methods, and the frictionless experience (finally) coming to the workforce side. 
Below, an event recap including timestamps for key conversation highlights.  
Zero trust is happening. 
As the results of Okta's July 2021 report indicate, zero trust is imminent. The number of organizations with a defined zero trust initiative or plans to implement one in the next 12-18 months
has more than doubled in the last year.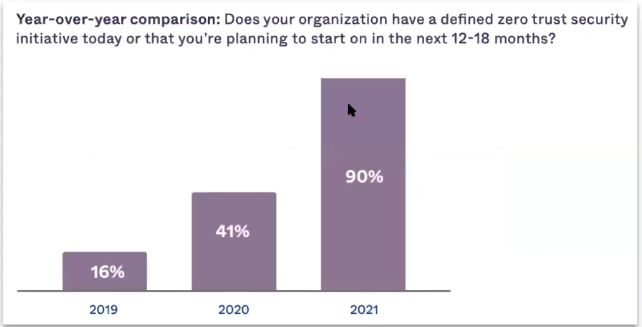 Based on a global survey of 600 IT executives, Director-level and above.
This marked increase is reflected in overall priority given to zero trust implementation; 74% of North American respondents consider zero trust a top or increased priority. Worldwide, over a third of respondents ranked it an absolute top priority.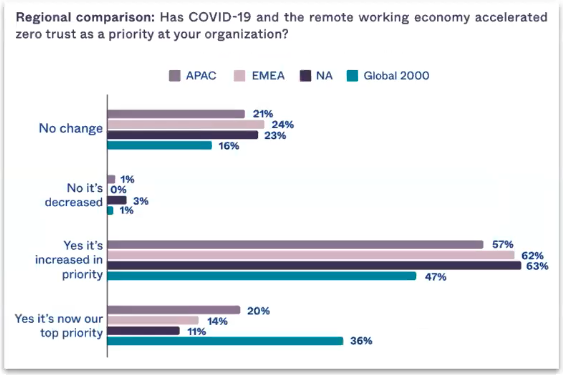 Top priority: 36% worldwide
Top or increased priority: 83% worldwide
Top or increased priority: 74% of NA respondents
Discussion Highlights:
Example of a comprehensive identity control plane (IAM, SAM, CASB, MDM, etc.) enabling flexibility and control.  [05:44] 
"Zero trust is all about dynamic policy evaluation, using context from all available resources to grant the right level of access to the right person on the right device, in the right context and for the right amount of time." – Ryan Terry
What a zero trust platform and coarse-grain access could have meant against the recent REvil attack.  [9:20] 
Zero trust maturity curve: Status of mature verticals and those for whom maturity is imminent.  [12:30]   
Returning to the office shouldn't mean returning to SFA: Companies adding a third factor and examples. [16:14] 
Demand for frictionless access driving increased use of biometrics and other forms of passwordless authentication.  [18:18]
Frictionless experience is moving onto the workforce side. [19:40]  
"We put so much focus for years on making it easy for customers to log in, lots of ways to authenticate, lots of modalities, and we ignored the workforce for a long time. 
Now, the workforce is demanding that frictionless experience while remaining secure." – Thomas Malta
What's next? Context-based access, lifecycle management, automated provisioning/deprovisioning. [22:30]  
"We're seeing organizations start to think about deploying MFA to their contractors, to their partners, to their supply chain. Next on the curve is context-based access: where are they logging in from, where is the device, what is the status of the device?" –  Ryan Terry, Okta