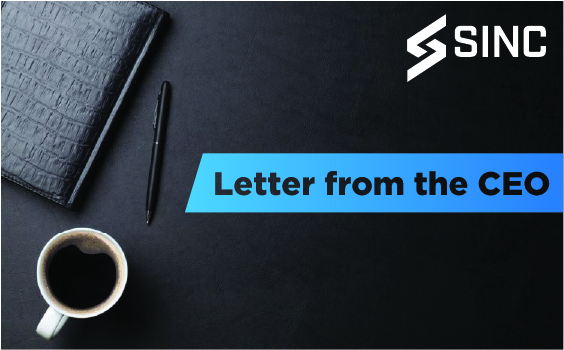 Letter from the CEO
July 6, 2021
Dear SINC Community,
Here at our Austin headquarters, summer is in full swing as life settles into this new normal. On the cusp of our July return to in-person events, I want to thank you for your loyalty and enthusiasm during the last sixteen months, a surreal and sobering time.
As a community first and foremost, and with many of our members rightly focused on their own internal challenges, SINC was greatly impacted by last year's constraints. Frankly, I'm quite proud of the way we listened to the industry and kept things intimate—we didn't try to replicate online what cannot be replicated (without being uncomfortably reminiscent of speed-dating).
Necessary as these adaptations were, I know there were unintended consequences. Members of our community were subjected to multiple or sometimes irrelevant communications. My central goal was to keep the doors and channels open, the engines pumping, to keep delivering as much quality content and useful engagement as possible within the extremely limited options available at the time. Ultimately, what some of you encountered was not in keeping with our mission to deliver fresh, personalized, relevant content, and the very best executive experience.
Going forward, communications from us will once again reflect the focused, attentive, concierge approach you've come to expect. And as we re-engage in person, you can anticipate a return to the signature events and Michelin-level experiences you've come to associate with SINC.
I'm extremely proud of the ways we made use of recent circumstances to reaffirm our mission and reassess our methodology. The past year allowed us to take stock of where we want to focus our attention: community curation, working closely with our Executive Councils, and continuing to build out opportunities for our community to draw on each other's experiences and improve industry offerings.
All of this is rooted in our commitment to community, collaboration, and content—three things you can expect much more of going forward. To that end, we're pleased to announce an upcoming calendar of non-sponsored original content, as well as the acceleration of our plans for building out our SINC:crowd platform. The ability to identify and articulate needs and freely strategize with peers will result in better and more productive relationships, to everyone's benefit.
SINC is poised to come roaring back with everything you've come to expect from us and much more. We've added new clients, expanded our product offering, and can now offer solution providers previously unavailable. We're thrilled to be returning to what we do best, and I genuinely believe we are better for it.
You'll find a full schedule of upcoming events in this week's newsletter. I look forward to seeing you again, or meeting in person for the first time. Many thanks for trusting SINC to bring you the best the industry has to offer.
Warmest regards,
Ross Abbott, CEO