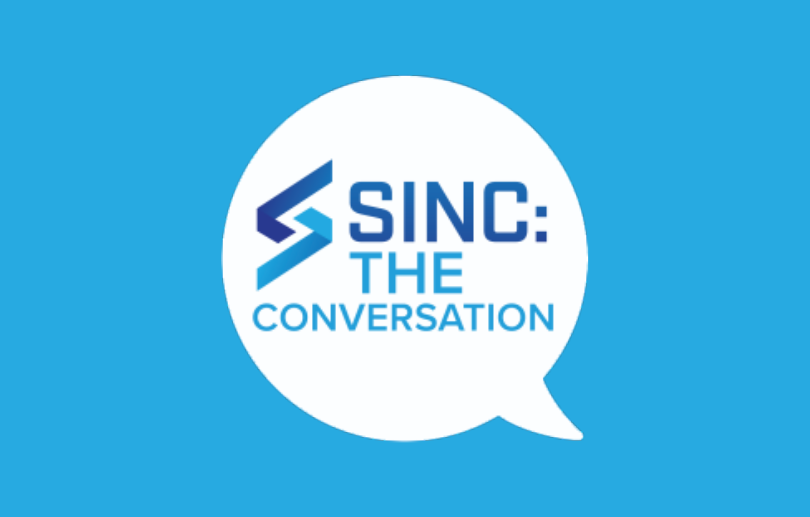 Launching our new podcast, SINC: The Conversation
SINC's core focus is providing places and spaces that foster connection and collaboration within the IT community. The launch of our new podcast SINC: The Conversation offers a digital window into the intimate, value-driven discussions that comprise so much of the SINC experience.
What sets The Conversation apart? Episodes are hosted and moderated by the guests themselves—industry experts, innovators, and organizational leaders.
You'll hear your peers asking the sort of questions you yourself might ask—prompting more meaningful engagement and the valuable insights that come from peers speaking with their contemporaries. This unique format reflects SINC's overall objective and will serve as a key element of the ongoing dialogues generated by and carried on throughout our other events: our city-based Executive Dinners, regular Roundtables, and yearly regional Forums.
We're very proud to offer this new channel for bringing you the best in peer thought leadership and quality unsponsored content. Welcome to The Conversation.
Episodes 1 & 2 streaming now:
This two-part conversation with Walter Ferrer (Zenlity) and Reinier Moquete (CyberWarrior) takes diversity beyond lip service, positing its moral accuracy as demonstrative of its integral value to organizational health, business relationships, innovation, and resiliency.
Overheard in Episode 1 of The Conversation…
Episode One:
Translating cultural awareness and fluency into immediate business results
The social responsibility of industry
Cybersecurity talent gaps
Talent gap impact of women, people of color, and military veterans
Episode Two:
Action-oriented leadership strategy
Cultivating diverse talent during a talent crisis
Application, both at an organizational level and throughout the industry
Sneak Preview: Guests coming in October!
Deena Swatzie CRISC, PMP®, SVP Cyber Security Strategy & Digital Innovation, Truist (formerly SunTrust)
Maria Schwenger, AVP Enterprise Digital Risk, Head of App Security and Data Protection, American Family Insurance
Dr. Arlene Espinal, Global Digital/AI Executive, prior VP AI, Analytics & Automation at Mantech, 2021 Top 50 Most Powerful Women in Technology; HITECH Top 100 Global Tech Leader 2020 and 2022